Regional Design Course (MSc)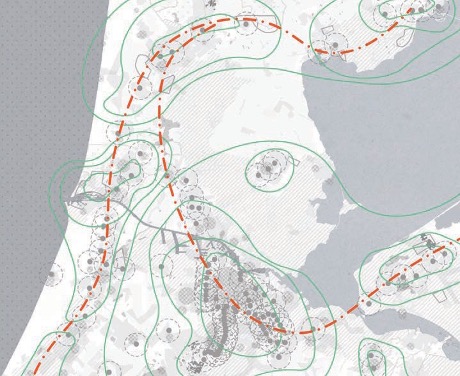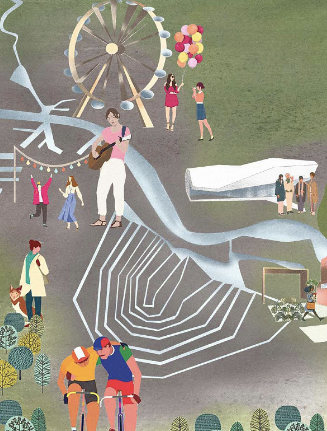 MSc Urbanism at the Delft University of Technology (TU Delft) offers an internationally recognized scientific design education, characterised by interaction between thinking (analysis and reflection) and doing (the speculative/intuitive imagination of spatial intervention). While the first two-quarters of the two-year curriculum focus on the design of neighborhoods and cities, regional design is the core theme of its third-quarter
(Q3). Regional design – as the exploration of plausible regional futures – promotes and debates solutions to societal problems that are the result of spatial development on high, regional, and supra-regional levels of scale. Regional design education trains students to act in the complex and uncertain situations that this setting produces.
Building upon trans-disciplinary approaches, students consider prevailing spatial conditions, political agendas, and planning regimes in conjunction, to inform innovative proposals for short and long-term strategic planning approaches and also good (democratic) decision-making.
The nature and professional practice of regional design involve processes of collaboration and negotiation among various experts, actors, and stakeholders. Taking this into consideration, the course focuses on group work, so that students learn to cooperate, and debate. Students with highly different cultural backgrounds
(50%-70% in the curriculum are international students) work in carefully composed mixed groups to develop their own regional de-sign proposals, supervised by tutors with an expertise in planning, design, and governance. Besides, the design studio is supported by a methodology course that pro-vide input on research methodol-ogy and ethical issues.
Regional design tasks given to students of the MSc Urbanism Q3 studio are deliberately chosen to address societal needs and questions that are reflected in contemporary public debate and planning discourse. Starting from 2017, the concept of "circular economy" has been their main focus, for instance. Within the Faculty of Architecture and the Built Environment, the Department of Urbanism excels in linking research and education. The relationship between education and research is particularly well-established in the Q3 regional design studio. A group of teachers with core expertise in regional design, planning, and governance is complemented with researchers who have expertise in the particular spatial development trends that students investigate. For example, the Department of Urbanism has acquired substantial knowledge on integrated approaches towards a "circular economy", through being the lead partner in the Horizon 2020 project Resource Management in Peri-urban Areas: Going Beyond Urban Metabolism (REPAiR). The Q3 Regional Design course has been collaborating with the REPAiR project for more than two years, with fruitful results and mutual benefits.
Related content